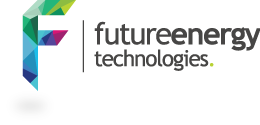 Technology
Palms: FET expects palm trees to become an even more important crop in the future. Palm trees such as Arenga pinnata, Nypa fruticans, and Borassus flabellifer grow sustainably in Southeast Asia and can be harvested for large amounts of high sugar content sap. Other species of sugar producing palms grow in Africa and South America. The extracted sap can be used for production of e.g. syrup, sugar, vinegar, sweet and alcoholic beverages, and biofuel. In fact, palm trees are able to produce higher yields in sugar and alcohol compared to conventional crops, such as sugarcane, sugar beet, maize, cassava, and sweet potatoes.
However, the tapping of the palm sap is very labor-intensive. It must be done daily otherwise the sap flow stops. Depending on the palm specie, tappers must either climb to the top of the palm or walk in waist-high muddy waters to get to the inflorescence of the palm. Then, tappers manually slice a thin layer of the inflorescence with a knife which initiates the sap to flow into an attached container. The height/location of the palm, the pre-treatment of the inflorescence, the number of daily repetitions, and the large amount of sap per palm per day make the tapping process very labor-intensive.
Therefore, FET aims to develop an automatic sap extraction solution. FETs solution will help establish an economic and sustainable large-scale production of products from palm sap (e.g. coconut palm sugar and bioethanol).
There is already a high demand for the sugar-rich sap from e.g. the food industry. The growing global interest in natural and healthy products has increased the demand for palm sugar as it has proven to have a unique set of health benefits compared to traditional table sugar. According to The Philippine Food and Nutrition Research Institute coconut palm sugar is now classified as an alternative sweetener with a low Glycemic Index (GI) of 35. In addition, palm sugar is already used in different food products, e.g. Unilever's Kecap Bango sweet soy sauce, Barkleys Natural Confectionery's organic chocolate bars, and LovingEarth's Coconut Sugar Chocolate Bars.
At the same time, the world's energy demand is projected to increase as it is linked to population and economic growth. As a consequence of this, one of the greatest challenges is to ensure a sufficient supply of reliable, affordable and sustainable energy. FETs technology has the potential to change the perception of biofuel production as it can increase the supply of liquid biomass using only existing natural resources.
See the illustration below for a selection of different applications of the extracted plant sap.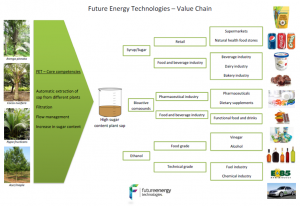 Trees: Furthermore, FETs core technologies have a large improvement potential within tapping of sap from other plants. FET expects that it is possible to transfer its innovative phloem-based tapping technologies to e.g. angiosperm and gymnosperm trees native to Europe and North America.
For instance, tapping of sap from maple trees for maple syrup production is a large commercial industry. The sap is traditionally tapped through the xylem tissue of the maple tree. FET possesses unique knowledge about plants' defence mechanisms to make the transfer from palms to trees possible.
This can potentially result in a more efficient and sustainable phloem-based tapping method for the maple syrup industry. In general, extraction of substances from other trees/plants can also be of high commercial value and could represent new interesting business areas.
References and links to related scientific articles and presentations:
Tapping of palms: Dalibard, C. 1999. Overall view on the tradition of tapping palm trees and prospects for animal production. International Relations Service, Ministry of Agriculture, Paris, France. Click here

Arenga pinnata: Ecofys & Winrock. 2011. Sugar palm ethanol – Analysis of economic feasibility and sustainability. Agentschap NL, Ministerie van Economische Zaken, Landbouw en Innovatie.

Nypa fructicans: Miyasaka et al. 2012. Potential of bioethanol production from sugars in nipa sap. 9th Biomass-Asia Workshop, Tokyo, Japan. Role of Biomass as Renewable Energy. Click here
Cocos nucifera: Philippine Coconut Authority. 2012. Coconut sap sugar industry roadmap. 1st National coconut sap sugar congress, Davao City, Philippines. Click here

Nutritional and health benefits of coconut sugar: 
Trinidad, T. 2011. Nutritional and health benefits of coconut sugar. Food and Nutrition Research Institute, Department of Science and Technology. Click here
Coconut Palm Sugar – Nature's Perfect Sweetener. 2013. Sweet Tree Coconut Palm Sugar. Click here